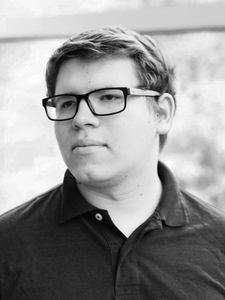 Andrew Savage - Composer, Arranger
Regular price
Sale price
$50.00
---
Composer, Arranger
Andrew Savage writes energetic, narrative-driven music, expressing themes of emotion, duality, and juxtaposition through an assortment of timbral contexts. He writes for a variety of mediums, but his main focus is on music for wind band and music for media. Savage's recent projects include a new wind band piece, entitled And Always Will Be, and a piece for trumpet and woodwind ensemble, entitled Trek. Recently awarded an Undergraduate Research and Creativity Award (URCA) in the summer of 2018 from UNC Greensboro for his chamber orchestra piece Coruscate, Savage was selected to present the piece at both the Southern Conference Undergraduate Research Forum (SURF) and the State of North Carolina Undergraduate Research & Creativity Symposium (SNCURCS), as well as at UNC Greensboro's own undergraduate research symposium.
Savage has been constantly pursuing any opportunities that come his way. Most recently, while working on his master's degree, he was selected to present his film music demo reels to Dave Metzger, the creative mind behind the orchestrations of numerous animated blockbusters, including Frozen, How To Train Your Dragon, and Moana.  He was selected as the 2017-2018 Lloyd International Honors College Artist-in-Residence, where he composed his Esemplastic Suite for solo piano, which is focused on connecting nine movements, each based on a unique word in the English language, together into a cohesive narrative through music. His saxophone quartet Split Wire was performed at the 2018 Oregon Bach Festival Composers Symposium (OBFCS), and his score to the short film Nobody Knows was screened at the OBFCS Film Festival. Both his original compositions and his arrangements have been performed often by the UNCG Horn Choir. These compositions have been featured on concerts at the 2016, 2017, and 2019 Southeast Horn Workshops at Vanderbilt University, James Madison University, and Western Carolina University, respectively. In the summer of 2016, his piece Between Sunlight and Shadow for Solo Horn and Horn Choir was premiered at the 48th International Horn Symposium in Ithaca, NY, featuring Master Sgt. Bob Cherry (principal horn of the US Army Field Band) as the soloist.  His work Odyssey, an arrangement of themes from the film "2001: A Space Odyssey" for brass choir and percussion, was featured in UNC Greensboro's annual Collage concert in 2017, which was performed at Meymandi Hall in Raleigh for the first time, as well as in Greensboro.
Andrew Savage holds a master's degree in Contemporary Music from Western Oregon University, and has graduated summa cum laude with his bachelor's degree in music composition at the University of North Carolina at Greensboro. While an active composer, he also participated heavily in the performing ensembles at UNC Greensboro as a horn player, which he studied with Abigail Pack. Throughout his time at UNCG, he performed with the Wind Ensemble, Symphonic Band, Present~Continuous (UNCG's contemporary music ensemble), Horn Choir, Casella Sinfonietta, Sinfonia, and Men's Glee Club. Savage studied composition with Kevin Walczyk, Mark Engebretson, Alejandro Rutty, and Lisa Bielawa, as well as participated in regular masterclasses with esteemed band composer Steven Bryant, a distinguished visiting professor at UNC Greensboro.
---